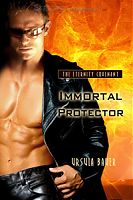 IMMORTAL PROTECTOR
by Ursula Bauer
ISBN: 1-59998-501-2
Publisher: Samhain Publishing
Release date: June, 2007 (ebook) May, 2009 (print)
Buy It Now!
Amazon.com Amazon Kindle
BN.com BN NOOK
Borders.com
An immortal soldier defies the ancient Gods he serves and puts his existence and the world at risk when he saves the life of the mortal woman he swore to kill.
Gideon Sinclair, an immortal, shape-shifting soldier, defies the ancient gods he serves, risking his existence and the future of the mortal world, when he saves the life of the woman he was sworn to kill: Dr. Megan Carter. For centuries he's fought for justice and balance in the eternal struggle between good and evil. Gideon challenges destiny and the forces aligning against her, but when Meg becomes more than a mission, will he be able to accept the healing love she offers or will their enemies and the demons of his past be their undoing?
Meg's accidental contact with an artifact sacred to the Goddess Isis thrusts her into the midst of a centuries old battle between two rival gods, and makes her the target of a crazed magician bent on unlocking the secrets of immortality. With nowhere to turn and no one to trust, she puts her life in the hands of the lethal, enigmatic Gideon, and is drawn into his dark world. She can't resist the passionate desire he stirs, but will she pay the ultimate price when she falls for a man who no longer has a heart?

She wanted to take comfort in his words. They were so forthright, so noble. They were also very final, a confirmation of all her fears. She was on borrowed time. "Why does Bast care if I live or die?"
"I've worked with the Gods for centuries, Meg, and I'm still confounded by their capriciousness and callousness." He shrugged. "Bast watches over women and children. You help children. Perhaps it's as simple as that. She picked me for immortality because I did her an unknowing favor when I stopped two soldiers from beating an alley cat to death with sticks. Gods are big on whims. That's why they've come so close to destroying the line so many times. The universe craves order, the Gods incite disorder. The mortals get caught in the middle."
"Oh." She couldn't think of anything else to say. She was so confident once she knew the general ground rules she'd be able to find a way to win. She was used to cheating death, to finding new and inventive ways to forestall it in her patients, she assumed she'd do the same here. To know there was such randomness around her, to know that disaster lurked around every corner, that was worse than knowing things like demons and vampires and magic existed in her world.

They fell into tense silence as the miles rolled by and she struggled to accept everything she'd learned. She kept trying to push the boundaries in her mind, but they resisted and the struggle wore her out. After a while the landscape blurred together in one swirling mass of green, and she must have fallen asleep.
Next thing she knew, Gideon was shaking her awake, and the sky was dark and full of stars.
Her neck hurt and her body ached. She had no clue how long she was out. She rubbed her eyes and looked at her wrist watch. Nine thirty p.m. "Where are we?"
"Right near the Ohio border." He pulled his hand from her shoulder and she felt the air cool the spot where it had rested so gently. "We're at a truck stop. It's a neutral spot. We'll be safe here. I need to make some calls. We can grab a bite to eat. We have one more stop to make, and then I'll get us a room and we can let up for the night."
Meg got out of the car and shivered in the cool, damp night air. They must be in the mountains, in a higher elevation. Western Pennsylvania had a ton of them. She'd need her sweater from her bag. Before she could say a word Gideon shrugged out of his jacket and draped it over her shoulders.
"This will keep you warm. Come on, let's go inside."
The leather enveloped her like armor. It smelled like him, radiating heat and comfort in an equal mix. She felt safe and secure, as if nothing in the universe could touch her. She gazed up into his eyes and a brilliant flare of carnal hunger sparked up from their fathomless depths. It spoke to her on a visceral gut level. All she wanted to do was touch him, tell him she shared that hunger, that gnawing primal need that could only be sated one way. Unable or unwilling to stop herself, she gave in to her urge.
As she reached for him, Gideon stepped aside and the look vanished. A blast of chill mountain air gusted between them. Meg lowered her arm and snuggled further into the protective cocoon of the jacket. She might want, and he might want, but together they couldn't be more wrong. Then again... Meg banished the fantastic thought, mentally chiding herself for her silliness. "Thanks."
"Don't thank me yet, Doc." He put his arm around her in a companionable way. "You haven't tasted the food."

His touch baited her, teasing her body, promising all kinds of unimaginable pleasure. She found herself wondering if perhaps she wasn't being premature, or puritanical, dismissing the potential of a liaison with Gideon so quickly. Plenty of people had sex without strings, every day, every night. There'd been a time, back in her college days, when that kind of careless abandon was a way to break up the boredom, to learn about sexuality, to have fun, if only for a night. When had she become so closed off? She shifted closer to him, settling into the warmth of his rock solid body, while she let her mind drift over the delicious fantasy of a wild night of abandon with a sexy immortal all to herself. It would be an excellent, if only temporary, antidote to the anxiety created by being number one on the hit list of the Gods. Something to block out the cold, harsh reality that she was in it, and in it deep.
To read another excerpt from Immortal Protector, please visit Samhain Publishing by clicking here.
---

RT Rating: 4 Stars.
"A fascinating look at the gods and their modern-day involvement in the affairs of Earth. ... an adventurous story full of romance, horror and mythology...a great job of creating an alternate Earth." —Susan Mobley for Romantic Times Magazine May 2008
Rated 91- A KEEPER!
"...a crazy whacked-out rollercoaster ride of non-stop fun....a near-perfect pace... kick-ass action romance... enjoyable from start to finish!" Reviewed by Mrs. Giggles for mrsgiggles.com
Rated 5 Kisses, A Twolips Reviews Recommended Read!
"Immortal Protector is a thrill a minute adventure story. Bravo to Ursula Bauer" Reviewed by Barb for www.twolipsreviews.com
Rated 4 Angels!
"...a most delicious beginning to a new series...an intriguing world...and I look forward to more in this marvelous series." Reviewed by: Trang for fallenangelreviews.com
"You just don't find too many original stories to rave about anymore. Reviewed on www.avidbookreader.com
Rated 5 HEARTS! "...an exceptional tale of ancient Gods, Immortals, demons and zombies...a spicy suspenseful story of twists and turns that will keep readers on their toes to the very end." Reviewed by Sandra for TheRomanceStudio.com

Samhain Publishing:
ebook :: print